Junior members are the future of the Pennsylvania Jersey Cattle Association. Therefore, we want to make their time as youth members memorable, as well as worthwhile and inspiring for a future career.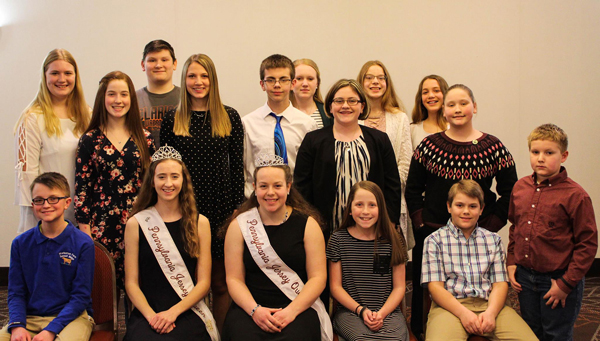 Youth 19 years-of-age and younger are eligible to participate in youth activities sponsored by the PJCA. Pennsylvania juniors represent one of the largest, most active state junior Jersey clubs in the country.
Memberships are available for $5 per year to youth. Youth whose family or farm are PJCA members are already youth members.
Each spring, junior members gather for their youth awards recognition, held in conjunction with the PJCA annual meeting. This banquet honors their accomplishments in the last year, as well as allows them the opportunity to purchase Registered Jerseys in the Pot of Gold Sale held during the event and compete for prizes in the ensuing production contest.
Youth Achievement Contest Winners
Jersey Youth Academy Participants
Tucker Hardy, Belleville; Logan Karchner, Nescopeck; Jesse Kline, Oxford; Jaylene Lesher, Bernville; Amanda Mitcheltree, Blacksburg; Charlie Moyer, Roaring Branch; Maria Jo Noble, Gillett;  and Stacy Theobald, Waymart
Jaydyn Isiminger, Union City; Wesley Noble, Gillett; and Willow Voegtlen, Columbia Cross Roads
Sarah Alexander, Liberty; Caroline Arrowsmith, Peach Bottom; Hannah Diehl, McVeytown; Naomi Diehl, McVeytown; and Camryn Moyer, Roaring Branch
Youth Production Contest Winners
2010       Tucker Hardy, Belleville - Sniders Future Fenola
30,143 lbs. milk | 1,808 lbs. fat | 1,110 lbs. protein | $5,962.53 MCP Dollar Value
2002       Josh Kellermann, Centre Hall - Four Springs Counciller Crystal
26,917 lbs. milk | 1,297 lbs. fat | 940 lbs. protein | $4,157.72 MCP Dollar Value
1991       Martin Watson, Troy - Sun Valley Sooner Sunday
27,662 lbs. milk | 1,415 lbs. fat | 1,143 lbs. protein | 1,143 ME Protein
1976       Cynthia Ann Waltemyer, Collegeville - Zev of Ogstons Dani
24,561 lbs. milk | 1,175 lbs. fat | $2,674.70 Gross Value
1973       Barbie J. Gale, Yardley - Galelands Epic Little Nix
15,730 lbs. milk | 8984 lbs. fat | 19,702 Energy Corrected Milk
Youth Production Contest Winners
1992       Sun Valley Sooner Sunday, Martin Watson, Troy
1979       Surville Farmers Love, Bruce C. Rhein, Pine Grove
1977       Zev of Ogstons Dani, Cynthia Waltemyer, Collegeville
1963       Marlu Milestone Nan 675, Merle E. Miller Jr., Carlisle